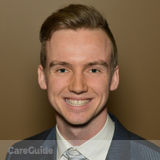 Gabriel M
Students Take the "Pain" out of "Painting"
Painter Job in Chelsea, Quebec
Are you a slave to your old job? Hate dealing with customers as a retail agent or server? Love the outdoors and a job that changes from one day to the next? Hate it when you WORK HARD but make the same as the next guy? Then stop what you're doing, because Gabriel Milling Painting is hiring student painters and marketing managers for the summer of 2016! WHAT YOU'LL GET OUT OF IT: 1. To quote Snoop Dogg "Toned taned fit and ready. Turn it up cuz it's getting heavy"... seriously. This labour is physical and the ladders are kinda heavy 2. Stepping back at the end of the job and saying: "Yeah... I did that" as you sling your crew kit over your shoulder and walk majestically into the sunset as the ghost of Chuck Norris Whispers in your ear "you did good kid" 3. An inside look at how to run a business. I'm basically the Wolf of Wallstreet (minus the hookers... and most of the money... More like the "scrappy little husky of wallstreet") 4. Making friends. Bring your own too! 5. Flexible part time work in the winter that fits your schedule. REQUIREMENTS: 1. A good attitude "Hire for attitude, train for skill" 2. Willing to work 40-50hrs/week 3. No experience needed (see req.1) 4. Committed to marketing in the Chelsea/Wakefield area 2-3 times a week for 2hrs at a time 5. Individual access to a vehicle is a HUGE plus 6. Bilinguisme is une bonne chose to avoir PAY Painter: --.../hr BONUSES AVAILABLE (work hard get rewarded Marketer 25$ a lead (Avg 1 lead per hour... you do the math) Gabriel Milling Painting is a subsidiary of Student Works painting Please send resumes to
[email protected]
or Call 819-360-... for a nice chat.
Share This Profile
Find Painter Jobs in Chelsea, Quebec
More jobs in Chelsea, Quebec