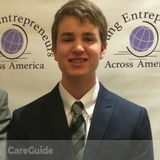 Travis S
Exterior Painting Summer Job- good pay with benefits and raises based on production.
Painter Job in Spring Lake, Michigan
My name is Travis Slater. I'm a junior at Michigan State University interning with Student Painters to do exterior house painting this summer. i'm looking for a motivated, hard working, and committed crew of five painters to produce the jobs I've booked through the summer. I'm also looking for someone with management experience to be my production manager on the site. - Full time hours - Working outdoors - Painting and Pressure washing - Full workers compensation and full liability insurance - Job locations will change so you won't be reporting to the same office every day! - Sherwin Williams Paint Training - THE BEST team camaraderie Pay for painters will start at $8.50/hr, with a monthly raise of $0.25 added to an account that would be paid off during the summer. Pay for production manager will start at $9.50/hr, with raises based on performance I will also include bonuses based on production at the $--..., and $70,000 levels. Painters must be 18 years old to apply. If you are interested, give me a call or e-mail me your resume. If you have any further questions, feel free to call or e-mail me as well.
Share This Profile
Find Painter Jobs in Spring Lake, Michigan
More jobs in Spring Lake, Michigan