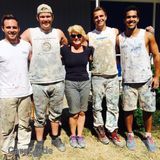 Reid T
College Pro Painters Full time positions available now!
Painter Job in Campbell River, British Columbia
Tired of your old summer job? Want to work with your friends? Looking to have some fun while working hard? Want to meet young driven individuals like yourself? College Pro is looking for proactive students, who want to secure their summer job well before the summer arrives. DETAILS: - This is a great full time job for local senior high school students or University students - Pay begins at $11 per hour piece rate and will increase dramatically as skill increases (Labour Piece Rate. THE HARDER YOU WORK, THE MORE YOU GET PAID!) Painters are paid on a piece rate basis for each job. This system is the same for all College Pro painters. (The job must be at least a Quality Job on Budget (QJOB)). - All training is paid, thoroughly provided, and will drastically improve your wage. - This job is a great opportunity to work with a friend, in fact, it's recommended! WHO WE ARE LOOKING FOR: - Extremely motivated University / College students / recent graduates. - Applicants should be outgoing, charismatic and energetic - Applicants should enjoy working outdoors and in a team setting. JOB DESCRIPTION: The students are responsible for the painting of the customers' home. They will learn the ins and outs of a quality paint job from the start to finish and be responsible for the daily success of the goals that have been set in place by the job site manager and production manager. They will be constantly in contact with the Job Site managers and will need to learn to maintain a high level of customer satisfaction. DEVELOPMENT: This job offers a solid development program rarely found in the industry. The following skills are expected to be developed by the painter. (Customer Relations, Basic Painting & Preparation, Painting Application Techniques, Equipment Maintenance) *Potential for Franchisee In Training Program (will provide more information in person if interested)* REWARDS: All painters will have the opportunity for advancement and promotion within the position and College Pro Painters organization. COLLEGE PRO CULTURE: - Company culture is very important at College Pro; team members enjoy thorough training, meetings over coffee, wings/pizza nights in exchange for hard work and results. DOES THIS SOUND LIKE YOUR KIND OF SUMMER JOB? APPLY NOW WITH YOUR RESUME AND COVER LETTER!
Share This Profile
Find Painter Jobs in Campbell River, British Columbia
More jobs in Campbell River, British Columbia